Make your
Mac-AI-fy ✨
Unlock 🧠 AI smarts on any Mac app
Just a shortcut away 🧙‍♂️✨
✔️ Free for everyone ✔️ Unlock multiple AI capabilities ✔️ Use your own API Key ✔️ macOS 12.0+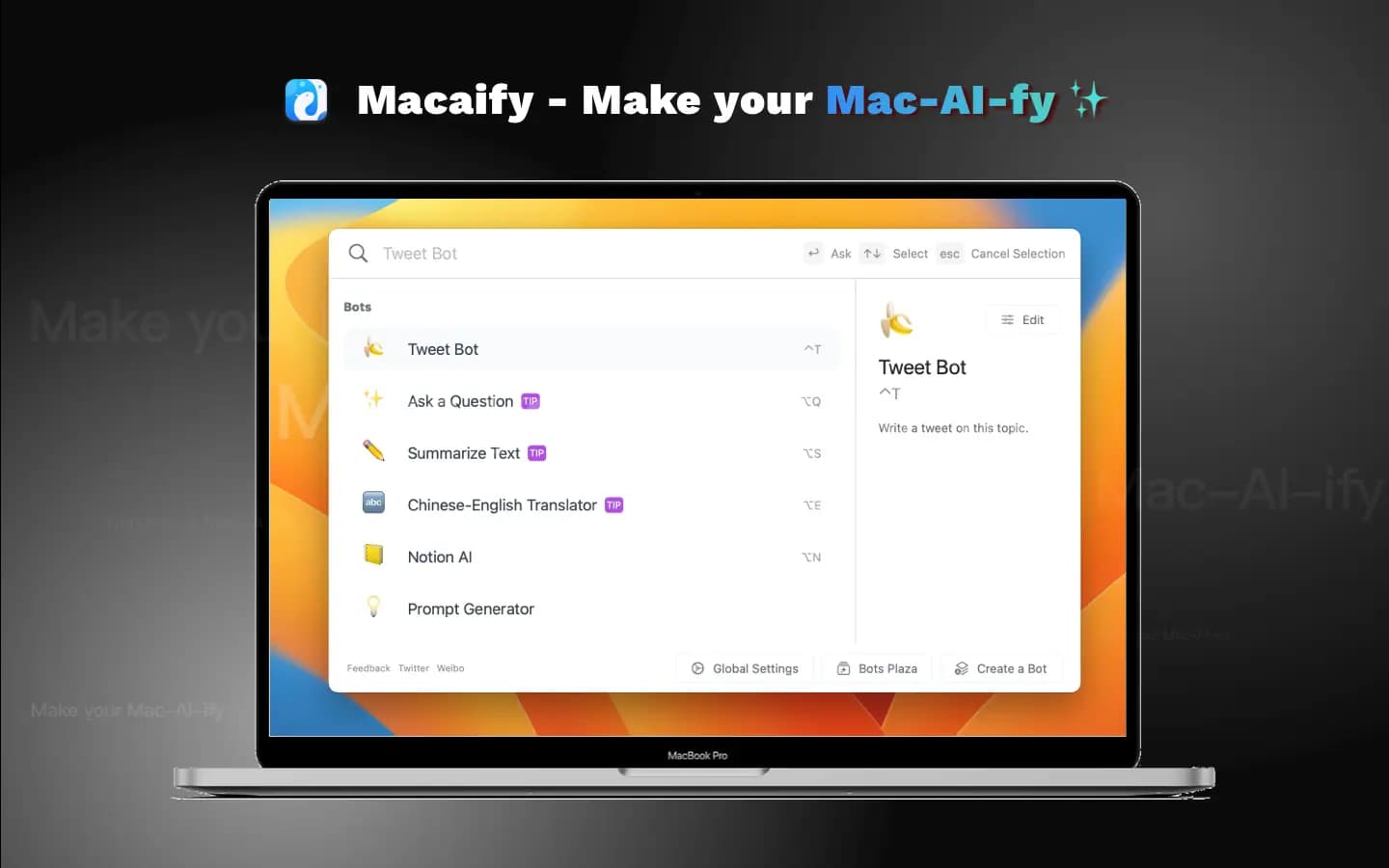 Unleash the power of AI on any Mac app
With just one shortcut key, enjoy AI capabilities in any app. Select text, press the shortcut key, and Macaify will instantly handle the task for you. No need to switch between apps.
Customize predefined robots
Customize AI robots for every step of your workflow, whether it's text processing, code generation, or automation tasks. Macaify can help you complete them all.
1000+ robot templates
Not sure how to define a robot command? We have over 1000 robot templates ready to serve you.
Mouse-free, all keyboard operation
Hold down the command key to display shortcut key prompts.
Coming Features
Here are some features we're working on
Unlock a world of limitless AI capabilities - Not only text
Generate images, semantically search images, and convert text to speech files.
AI - Mac - Internet
Bridge the gap between system interfaces and internet interfaces, commanding them effortlessly with natural language.
Process web URLs
Easily process web URLs with just one click.
Search the latest internet content
No longer limited to ChatGPT's data, you can instantly search the latest internet content.
Free quota for everyone
No need for an API key, everyone can use it for free.
Pricing for All Plans
Choose a plan that suits you and instantly boost your productivity..
Free
Enjoy most of the basic functions
Unlimited number of bots

1000+ pre-defined bots

Seamlessly Use AI in Any Scenario

Use your own API Key

⌛️ Search the latest interne

⌛️ Monthly free quota of 50
Free Plan
Standard
More AI capabilities, more free quota
All Free Plan features

AI-powered Image creation

AI-powered Image search

Voice AI capabilities

AI-powered Charting creation

Monthly free quota of 1000
Coming soon
Plus
More quota, for users who require heavy usage
All Standard Plan features

Expert team support

Monthly free quota of 3000
Coming soon